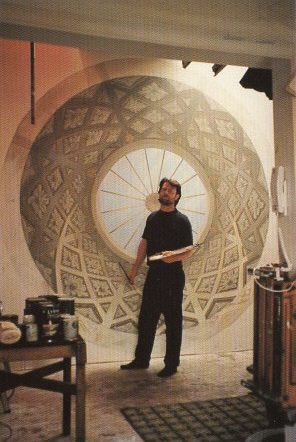 Rod Booth-Jones
British Artist (1954) Gloucestershire.
Lives and works in Wiltshire and London.
EXHIBITIONS
Josephine Clavel Gallery, London.
Trompe l'oeil Show Crawford Street, London.
British Interior Design Show Chelsea, London.
Trompe-l'œil Exhibition Columbus Ohio U.S.A.
PUBLIC AND PRIVATE COMMISSIONS – MURALS AND TROMPE L'ŒIL
Private           
Scottish Castle, Nr Edinburgh. Trompe l'œil brickwork in tower & corridor.
Luscombe Castle, Devon. Dining-room ceiling, Cubitt room and Lady's bathroom.
Children's Bedroom in Bruton, Somerset.
Ceiling at Tyringham Hall, Buckinghamshire.
Ceiling Trompe l'œil Upper Grosvenor Street. London.
Wood graining Cadogan Sq. London.
Anamorphic garden, Markham Sq. Chelsea, London.
Faro mural dining room. 30 X 10 Feet. Portugal.
Hospitality     
All England Tennis Club Wimbledon. Ladies Changing Room.
Goring Hotel, London.
Hotel Ceiling, Gloucester Road, London.
International
World Cup Golf Painting, Madrid, Spain.
Hotel Penang. Malaysia.
Traders Hotel, Singapore.
Halcyon Hotel, London.
Hotel Mandalay, Burma.
Caribbean cruise ship, six ceilings, Turku Finland.
Euro Disney, Paris. Fantasy Land. Large Archway.
Swimming Pool
Park Lane, swimming Pool and alcove. London. Acrylic. (PC)
Stodham Park, swimming Pool, Hampshire. Acrylic. (PC)
Hereford, swimming pool 10 alcoves and Jacuzzi area. Acrylic & Oil. (PC)
Ampney Park, swimming pool mural. Acrylic. (PC)
Balfour Place Mayfair, London. Basement swimming pool mural. (PC)
Malborough Downs, Wiltshire. Palladian House swimming pool mural. (PC)
Hospital
Children's Hospital Great Ormond Street, London.

Selected Interior Designers
Victoria Waymouth Interiors.
David Laws Design Partnership.
Mary Fox Linton.
Colefax and Fowler.
EDUCATION
Foundation year at Heatherly Wilson Art School, London.
"la signorina" Nerina Simi Academy, Florence.
Royal Academy of Art, London, with Peter Greenham RA.